Kingdom of Yelsord



Ruler

King Nias

Seiyuu

Second

Ella

Seiyuu

Capital

Riverburg

Color

Blue

Homeland

Pedestal

Words:

There Is No Wind In The Storm That Happened To Be Unaware
The Kingdom of Yelsord controls all land on the Pedestal continent. Its history is long, beginning when King Edias, the fifteenth king of the Kingdom of Melgia, dispatched Royal Prince Cedias to control the Yelsord region of the Pedestal Continent. The current ruler is King Nias. His governance well balanced, the country swells with power.

The Kingdom of Yelsord has a tendency to favor knowledge over might, though this may be a remnant of the country's past. Yelsord is the home of many scholars and the source of much of the research into alchemy.

The current ruler of the Kingdom of Yelsord is Nias Yelsord. Nias is known as the "Wise King" for his ceaseless pursuit of wisdom. He offers aid to the researchers of alchemy, and is famous for bringing the chimera to 80% completion.

Though a pessimist with a love of books, he does not neglect his political duties. Nias was once a vibrant young statesman, though the current stability of modern Yelsord has allowed him to leave the majority of his political duties to his subordinates while he pursues subjects in his own interest. Nias's wisdom is widely esteemed amongst both his subordinates and the country as a whole.

Some people feel that the happiness of this country should extend across the entire world, thus those under Nias work to expand the domain of the Kingdom of Yelsord. King Nias himself watches the plans for expansion with a careful eye, hoping the expansion of territory will lead to an expansion of knowledge available to him.

As King Nias is a descendant of a duke of the Kingdom of Melgia, his preferred title is the "Duke of Yelsord."
DistrictsEdit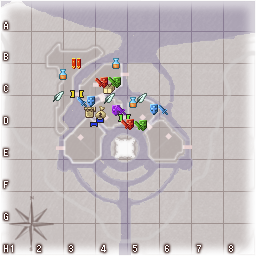 Academic Quarter
Edit
<special exchange> milfer d3
<serial> quill d3
moryn e3
<soldier> rupert e3
Center Quarter
Edit
Manager <Aruya> [C:3]
Recruit Support Jerry [C:3]
<Tutorial> Colt [C:3]
Bulletion Board [C:3]
Recieving Jake [C4]
Shipping Mikhail [C:4]
<Recycle> Tom [C:4]
<Tool Shop> Bomy [C:4]
<Bank Zeke [D:4]
<EX-Bank> Lenie [D:4]
Civilian Mission Board [D:4]
<Citizen Mission> Hamith [D:4]
Hamilton [D:4]
<Fencer Shop> Pell [D:4]
<Cestus Shop> Ron [D:4]
<Inn> Sayu [D:3]
Military Quarter
Edit
<corps> tim d3
<title> Doran d3
<room> woodruff d3
<shipping> Yuu c3
<tutorial> colt c3
<manager> warakith c3
bulletin board c3
<tool shop> mark c3
<class> Giggs c3
<class> naris b3
<trainer> garaha b2
<training Grounds> Sonelle b2
<army mission> amecie b2
army mission board b2
alchemist blacksmith winbeck c2
poppo c2
<offical> felicia b3
Residental Quarter
Edit
<warrior weapon> Doppo D5
<warrior armor> Nasha D5
<scout weapon> Kelly D5
<scout armor> Arle D5
<tool shop> Barth D5
<shipping> Mamie D5
<manager> melose d5
<sor Armor> Lena d5
<sor weapon> Vicious D5
Homeland MapsEdit
Pictures of YelsordEdit
Ad blocker interference detected!
Wikia is a free-to-use site that makes money from advertising. We have a modified experience for viewers using ad blockers

Wikia is not accessible if you've made further modifications. Remove the custom ad blocker rule(s) and the page will load as expected.