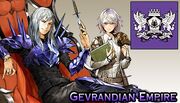 To the South East, Stricor, The Gevrandian Empire
The Gevrandian Empire rules the entirety of the Stricor continent with an iron fist-a military society that has survived eras of confict and birthed an aristocratic class of former warlords. Emperor Lyle C'Velda Geburand seeks to end the aristocrats' chokehold on the country, and bring true society of equality. Brash and confident, Emperor Lyle belives it is his destiny to bring about this new world...
Ivory Road
Edit
Melma Basin
Edit
Ripple Canyon
Edit
Nashblitz Canyon
Edit
Raven Horde's Island
Edit
Shepeth Highland
Edit
Sienna Hill
Edit
Civage Ruins
Edit
Cudan Hill
Edit
Lake Pass Wilderness
Edit
Obsidian Wilderness
Edit
Rosario Heights
Edit
Ad blocker interference detected!
Wikia is a free-to-use site that makes money from advertising. We have a modified experience for viewers using ad blockers

Wikia is not accessible if you've made further modifications. Remove the custom ad blocker rule(s) and the page will load as expected.